About Us
Welcome to the Gifts of Distinction website where you will be introduced to many of the creations we design and produce for our valued customers. Our record of providing new, creative and award winning designs was awarded at the Boston, MA Jubilee Gift Basket convention and awarded Best of Show for our Swinging to Success basket creation in Rosemont, IL.
View Our Baskets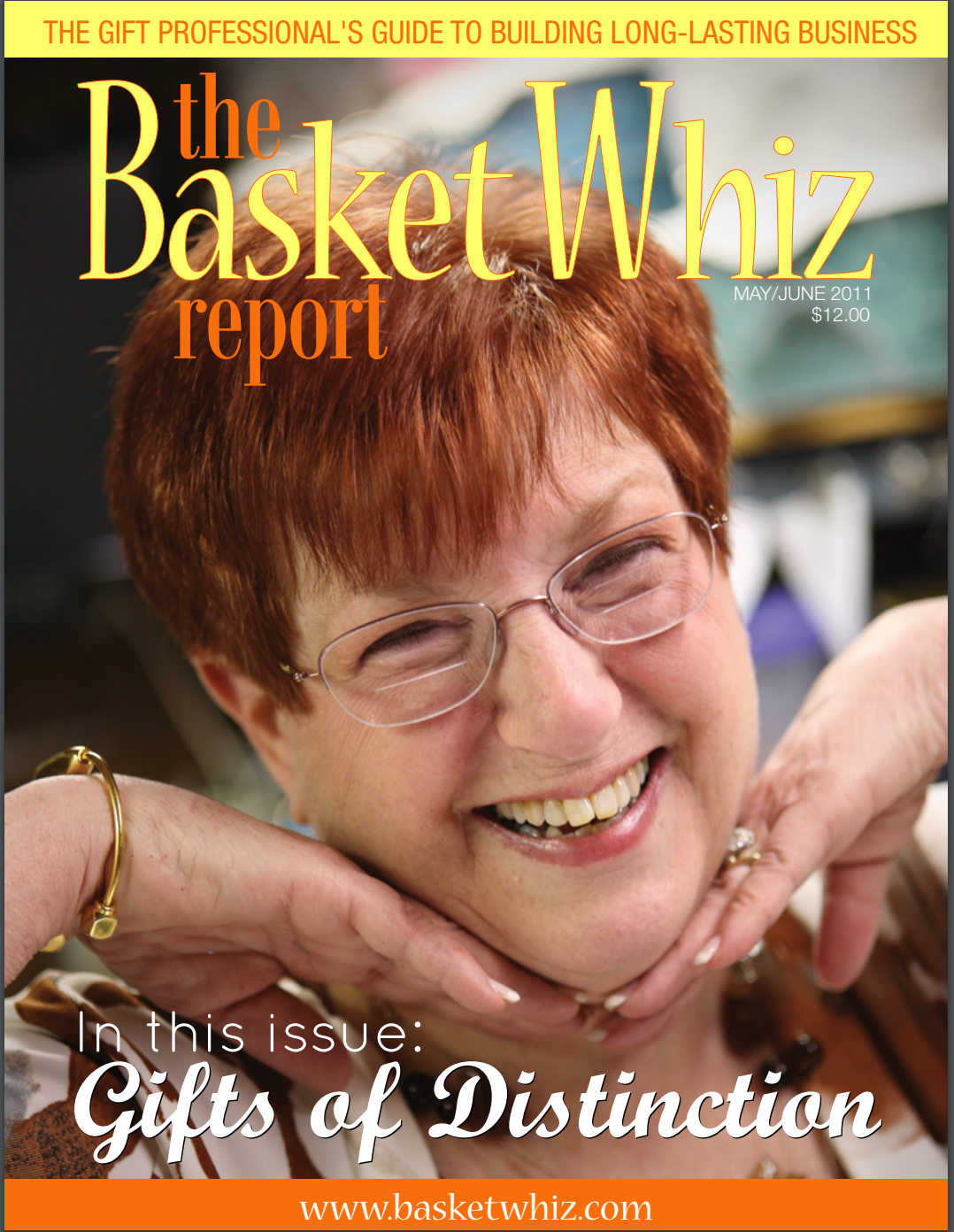 About Owner

Vicki and Gifts of Distinction have been featured as the cover story in the May/June edition of "The Basket Whiz Report." The article focuses on how Vicki's positive outlook, entrepreneurial spirt and creativity combine to make Gifts of Distinction one of the Top 100 gift basket companies in the nation 3 years running! Vicki also says Gift of Distinction has also changed over the years. "It's gotten broader," she says of her home business. "I start out with realtors and expanded to corporate, hospitals, hotels and individuals, to name a few."
Contact
Testimonials
CHIEF CONCIERGE RITZ-CARLTON HOTEL -JON WINKE

As the Chef Concierge of a hotel of distinction at The Ritz-Carlton Hotel Chicago, when I need a gift of distinction. I have found Vicki Baker's "Gifts of Distinction" a valuable resource when the request goes beyond the typical amenity that our hotel has available. Vicki has been very helpful with recommendations and the feedback that I have received has been very positive from my guests. She has gone out of her way to fulfill requests and she always takes the time to thank me for sending her our business.

KIBITZ SHIFRIN AND NESBIT - BRITTANY S.

Our large law firm has been able to serve our staff and clients alike with a wide variety of goodie bags and gift baskets for absolutely all occasions and circumstances we have encountered. Truly, Vicki is a
is a talent that adds brightness to each celebration and brings comfort for the tougher moments in life with her cherished creations. We are truly grateful for her hard work and thoughtfulness she puts in to each and every order for people who mean so much to us.

ACE HARDWARE CORPORATION - MARY D.

We use Gifts of Distinction baskets as retirement gifts for our long term team members. Because each basket is personalized, we feel confident that the retiree will love it. And Vicki makes it so easy! Her attention to detail and great customer service never disappoints!

WICO INFORMATION TECHNOLOGIES, INC. - DAN W.

Sometimes I think it's not fair when I send one of Vicki's gift baskets. I call her, she does all the work, but I get all the credit. My gift recipients always tell me how much they appreciated my efforts to put together such a nice personalized gift basket. But, all I did -- was call Vicki at Gifts of Distinction.

HOM BY RAY & SON -RANDY R.

As a small business owner our reputation depends upon the people who represent us to our customers. Vicki Baker's Gifts of Distinction baskets have always impressed our customers. We as business owners have also been constantly impressed by Vicki's professionalism, courtesy and artistry in her high-quality service and the beautiful baskets she produces. We will always choose Gifts of Distinction as the best way to thank our loyal customers.

NANCY B. - ACE HARDWARE CORPORATION

For several years now. Ace Hardware Corporation has used Vicki's services for gift baskets. Vicki is prompt, on the ball, and a joy to work with, but most importantly, her gift baskets are nothing short of creative and awe-inspiring. When a gift basket is delivered, everyone in the office flocks to it and admires what Vicki has created - they are always a huge hit (and eye candy)! Whatever the occasion. whether for a retirement or birthday, Vicki makes her gift baskets to fit the individual's wants and personality, based on whatever we tell her (sometimes we give lots of info, other times barely any). Either way, no gift basket is the same! The appearance of the gift baskets are equally as remarkable as whatever treats/goodies are inside.

COLDWELL BANKER - CONNIE H.

I have been thrilled to have presented Vicki's gifts to my clients for more than 25 years. It is evident that her creativity and thoughtfulness go int o each AND every gift. Vicki has gone out of her way to fulfill all of my requests in a prompt, reliable and efficient manner. Gifts of Distinction provides lovely and memorable gifts for EVERY occasion. My clients continually offer positive comments and appreciation regarding their special gifts. I love and will continue to do business with Vicki and Gifts of distinction. I highly recommend to check out this amazing vendor.

KATHY T.

I want to Thank You so very much for your help last week with the beautiful Gourmet Basket you prepared for my family and I to show our sympathy. Not only did I receive your kind note with a picture and description of the contents ~ I also got very positive feedback from my sister who was there for the service. She and all the others who were there were so impressed. I certainly gave them your information and sang your praises for the wonderful job - and your Customer Service -which is incomparable. Thank You once again for helping so graciously during a difficult time. I will pass along your information with pleasure as I know whoever comes to you will be in good hands.

KRISTI SMITH CONSULTING - KRISTI S.

I have been delighted to send gifts from Vicki for more than 12 years. She has the most creative ideas. I've sent everything from business gifts to bridal shower gifts that Vicki has made. One time, she helped with a particularly difficult request. A friend had been expecting twins, and lost the babies late in the pregnancy. I wanted to show sympathy, but had no idea what to do. Vicki made the most wonderful keepsake basket to help memorialize the babies. She always knows just what to do ­whether to make dozens of small gifts for business or one or two large gifts for a special personal occasion.

JANET B.

I don't like giving my clients gifts that are disposable.  I like them to have a keepsake for years to come and that's where Vicky comes in!  The ceramic items that have been my closing gifts for many years are still in peoples homes and they're constantly talking about how much they enjoy their treasures!  Vicky works hard to insure each item has the perfect calligraphy and is wrapped beautifully for a knock out presentation.  She has even taken items back when people move so she can have their newest address on the item!  So creative!!!